Soft Touch Speed Handle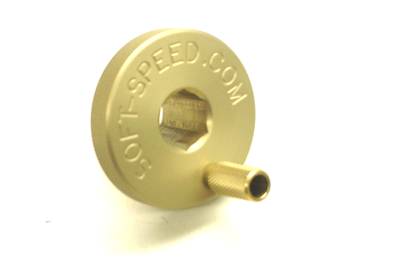 Price:
$24.99
The S.T.S.H is made out of Aircraft Grade 6061-T65 aluminum. Hard anodized for wear protection. Using this handle will decrease your load and unload times.
Fits most shop grade 6½ vices.
Ease of attaching and removing. Uses a ¼-20 set screw to attach to vice shaft.
Removable thumb screw. To lightly clamp on thin parts.
Can be customize with your company logo on face. (additional charge).
Application used for:
All types of plastic.
Thin walled aluminum.
Parts requiring critical surface finishes.
Parts that require opening up vice wide to extract part.
---
Dry Break Cap
Price:
$45.00
Made from 6061 aircraft grade aluminum and used to prevent dirt/debris from falling into the tank.
Is a must for fuel injected machines.
Sits flush on the dry break housing allowing no step for dirt to build-up on.
Item has an o-ring to insure cap is leak proof, but also has vent holes to prevent pressure build-up.
Better alternative than cheap plastic ones supplied.