Thayer Mfg offers solutions to simplify the on-going problems associated with purchasing from shops today. Our new equipment will provide less part handling which offers better quality product to insure customer satisfaction.
About our shop
Thayer Manufacturing LLC has been in business since 1998 and has provided top quality products to the Aerospace, Military, Automotive, and Custom Manufactures.
We offer all of our customers a clean work environment that is temperature controlled for quality assurance.
Our abilities include: CNC turning and milling, production saw cutting, I.D./O.D. grinding, surface grinding, certified welding, and tumble deburring.
Quality control is held to ISO, QS, and MIL-Spec requirements per our Quality Control Manual.
All venders are also certified to these specs
programming/ engineering
Thayer Mfg uses latest versions of Solid Works, Auto-Cad, Mastercam, and Smart-Cam to produce exacting tolerances to our parts.
We can also receive DWG, DXF, IGES, files along with many others from our customers.
Quality Control using spc
All parts that require 1st article or final inspection go through our Quality guidelines requiring 100% inspection on 1st run prototype. They are then serialized and a document is printed out showing all the dimensions and callouts shown on drawing.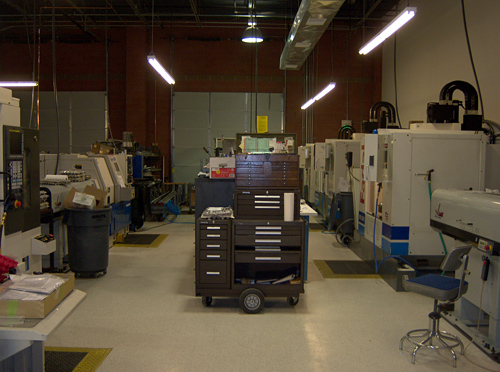 State-of-the-art Quality Control Equipment set in temperature controlled shop.
All material used is certified and inspected when entering the shop to our receiving inspection procedures.